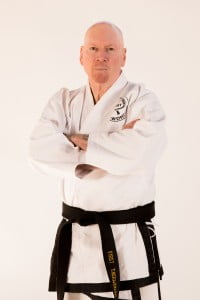 Chief Instructor John O'Brien commenced his Taekwondo training in the late 60's under the instruction of Master Low. After achieving Black Belt he was appointed 1st Assistant Instructor to Master Low. In this position he was groomed as future Instructor.
Upon completion of Architectural studies and a short period of employment in that industry he began teaching as a professional Taekwondo Instructor.
Besides producing 100's of Black Belt students from his suburban training centres John has been responsible for the development and delivery of many other facets of Taekwondo. He is credited with training many corporate, workplace, school and community groups in self defence. The Outdoor Education Taekwondo curriculum program employed by the Education Dept for year 10 students was designed and presented by Chief Instructor John.
Chief Instructor John is a committed professional with a wealth of knowledge in the art of Taekwondo who has dedicated his working life to the development of competent practitioners from all walks of life.